Bond Information
Jason Sargent
Wednesday, September 19, 2018
Bond Proposal 2018
Congratulations to our students and staff for their hard work and dedication to systems.
St. Ignatius School is a best practice school and hopes to have facilities to match our commitment to children of St. Ignatius
2017-2018- MBI 'Platinum' All Schools 2 years in a Row- 1st in the State of MT
2017-2018- Awarded one of the 50 Most Underrated Schools in U.S.A.-Schoolgrades.org
2016-2017- 1st School in MT to reach MBI 'Platinum' All Schools 2 years in a Row
MBI 'Gold' School: St. Ignatius Elementary School 2X
MBI 'Gold' School: St. Ignatius Middle School 2X
MBI 'Gold' School: St. Ignatius High School 3X
2016 -'Rilla' Award- St. Ignatius, MT
2016 -7th Generation Award- St. Ignatius, MT
1st Reservation School to Reach Gold in All Schools in the District- St. Ignatius, MT 2014-2015
1st Reservation High School to Reach Gold – St. Ignatius, MT 2013-2014
Please Register to Vote: www.stignatiusschools.org or Polson Court House
Please Vote: Tuesday November 6th, 2018 St. Ignatius High School
Building and Facility Needs:
The School District is in great need of facility/technology improvements. The proposed improvements include safety concerns, and facility remodel, modernization and additions. Building code, safety, and energy updates will also be made to existing interior space. Safety and health concerns within our system will be our biggest priority. Our priorities for improvements will include the addition of a Career and Technology Center for the purpose of future employment for our students. We are in great need of career opportunities and training for all students. The school wants our facility to be the center of our community with additional free wellness opportunities to workout, use the new gym and continue adult education. We have a solid vision to have the very best opportunities for our students and community, opportunities that they deserve and drastically need.
Deferred Maintenance (INTER-CAP Loan Not Included in Bond 1.2 Million): Family Consumer Science Room convert to ART, Classroom Desks/Tables, Automatic Flushers, Fix MS/HS Lockers, Tennis Court Repair, Maintenance Equipment, MS Cabinets, Bathrooms, Elementary Technology, Elementary Envelope, Elementary Bathrooms, Gym Ceiling Repair and Air-Exchange, Remove Old District Office.
New Facilities (Bond 5.6 Million): Career and Technology Center to prepare students for a productive future: Shop, Family Consumer Science, Technology for future career development in nursing, medical, culinary arts, early childhood development, teaching, advertising, business, technology, automotive, plumbing, electrical, woods, welding, coding, life skills, personal finance, carpentry, and career and technical education employment research ; New Locker Rooms since our current rooms no longer meet code; New Bathrooms for public and student use; New Gym and Weight Room for community and student use.
Impact to Tax Payers: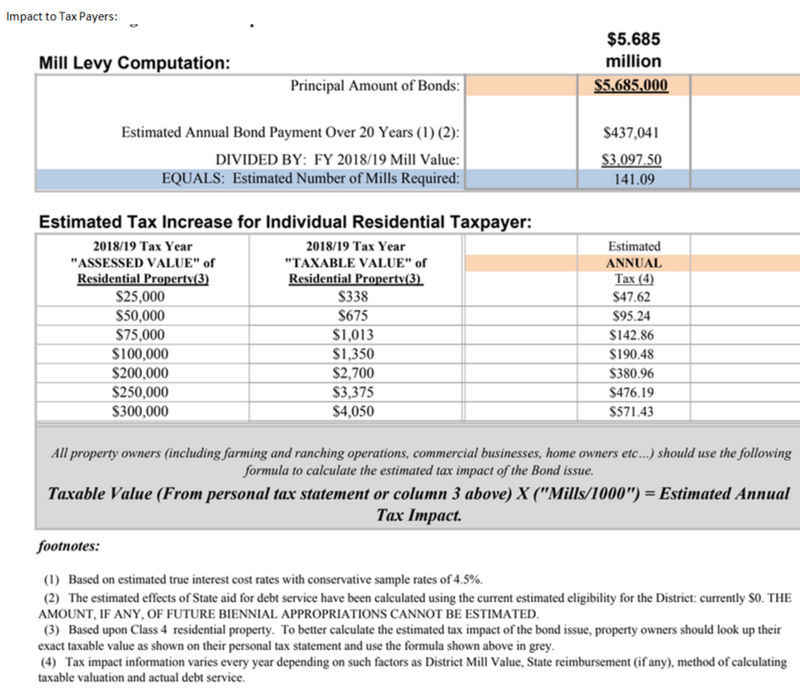 *The last bond that was run for School Dist. #28 was in the early 1980's. All Improvements since the early 1980's bond have been done with school impact aid dollars, which have not affected tax payers. We are also going to apply for the Quality School Grant and Impact Aid Construction Grant to reach our goal. All school construction including the envelope and additions were done with Impact Aid dollars and savings that are no longer available.
Questions: Please Call Jason Sargent: 406-396-7839 or 406-745-3811 x 260 email: jsargent@stignatiusschools.org www.stignatiusschools.org
*The cost of construction has gone up from Sept. 2016 to Sept. 2018 One Million Dollars $1,000,000
Sept. 2016: New Construction Project was 4.6 Million
Sept. 2018: New Construction Project now 5.6 Million
If the increases continue:
Sept. 2020: 6.6 Million
Sept. 2022: 7.6 Million
The last time we ran the bond the interest rate was around 2.8% and its is currently estimated at 4.5%
Community Informational Meetings Scheduled:
September 18, 7pm in the Library Board Meeting and Bond –Information
October 2, 7pm City Council Information Presentation-Information
October 16, 6pm in the Middle School Commons – Information
October 23, 6pm in the Middle School Commons –Information and Tour
Jason Sargent will be happy to share information to any group or community member when requested.
The district will be running a

bond

in November that will decide the direction of the bus contract future. It would cost the tax payers about the same amount to run our own buses as it would to pay for the

bond

. If the district does not pass the

bond

, the district will need to look at running our own buses in five years to generate funds for the district. This was a difficult decision between running our own or contracting the buses. The permissive levy for running our own buses would raise taxes between $200,000 to $300,000 per year; through a bus depreciation tax that is currently at zero by contracting the buses. This means if the district owned its own buses a permissive levy could be instated without a vote to an estimated $200,000 to $300,000 per year. The last time the

bond

was ran the payment per year was around $280,000 with state aid added to support that payment.
Jason Sargent
406-396-7839